They are being used more and more either for the continuous monitoring of complex structures or for the renovation of civil engineering works.
EXAMPLE:
FORCE MEASUREMENT ON TIES FOR LOAD-BEARING BEAMS
The surface movement or slippage of a man-made mound of waste (a slag heap) can have disastrous consequences.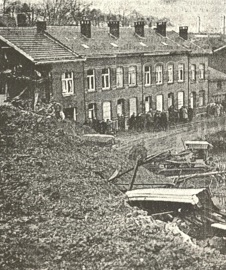 In order to contain this kind of movement, reinforced concrete beams are installed and are supported, along with other structural members, by tie beams set in the bedrock.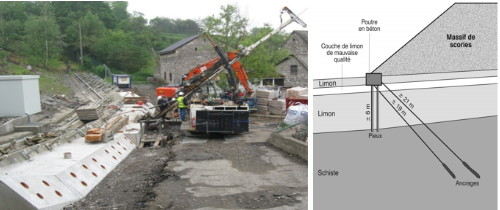 Over time the forces that these tie beams have to contain can increase. It is therefore essential to measure these forces continuously in order to ensure they do not exceed the maximum permissible load of the beam.
That is why the University of Louvain-la-Neuve (UCL) in Belgium asked SENSY to manufacture six custom-made annular load cells.
Technical description of the supplied material:
Capacity : 1 MN
Accuracy class : ± 0.5 %
Material : Stainless steel
Diameter of the central bore : 47 mm
Outside diameter of the supports : 89 mm
Protection rating : IP67
Operating temperature range : from -30 to +85°C
Compensated temperature range : from -10 to +85°C
Number of outputs : 2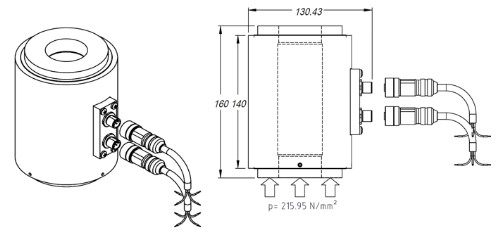 A relatively high temperature range was chosen to take into account the possibility that the slag heap could become overheated.
The dual output was designed to allow measurement redundancy in order to increase the load cell's reliability.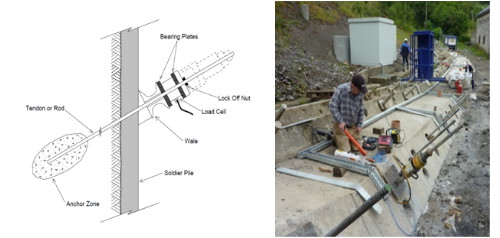 In a similar way to many other localised measurements (displacement, temperature, flow, level of the water table, etc.) these force transducers are connected to a data logger with internet access.
Since their installation in 2012, the site operator has accessed continuous information about the evolution of the forces applied to the six-instrumented tie beams.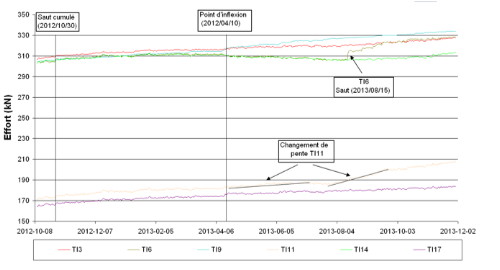 This application example shows how SENSY is able to adapt its standard range of load cells (see the data sheet for model 5190) to meet the specific needs of this market.