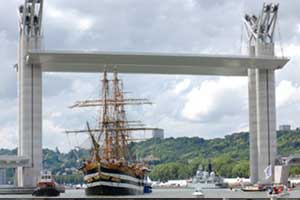 The Gustave-Flaubert Bridge in Rouen was built between 2004 and 2008. It is a road lift bridge consisting of two movable decks 120 metres long which can rise to a height of 55 m to allow cruise ships and large sailing ships to pass through.
Each deck weighs 1,300t and is suspended by eight cables at each end. These cables are connected to four counterweights by pulleys mounted at the top of the columns. Two of these counterweights are pulled down using winches.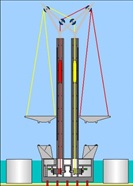 To balance the forces on each cable and on the winches, load pins were mounted at the turnbuckles connecting the counterweights to the cables connected to the decks as well as those connecting the lower part of the counterweights to the winches.
During assembly, the forces exerted in each load pin were balanced using an indicator showing the force in two axes.
48 load pins were installed:
16 load pins mounted above the motor counterweights: 1.103.8 kN, Ø: 150 mm, L: 397 mm
16 load pins mounted above the non-motor counterweights: 1.028.8 kN, Ø: 150 mm, L: 397 mm
16 load pins mounted under the motor counterweights: 787,1 kN, Ø: 120 mm, L: 377 mm
The other features are:
Permissible load: > 150% of the measuring range
Breaking load: > 500% of the measuring range
Accuracy: ± 1
Output signal: 2 x 1 mV / V (redundancy)
Protection: IP66
Material: Stainless steel
All these load pins were subjected to a control of the material using a dye penetrant test and an ultrasound test.
Load cell often used for this type of application