To this range of products we can also add our custom-made solutions for which SENSY is well-known worldwide.
Indeed, we distinguish ourselves by our ability to deliver tailor-made solutions to our customers. One of these customised solutions is the implementation of a wireless force sensor. We can equip our sensors with a wireless transmitter to pick up the signal on a portable indicator, a display, a PC (via a USB interface), etc. The diagram below summarises the standard possibilities, although 'multi-sensor combinations' are also possible.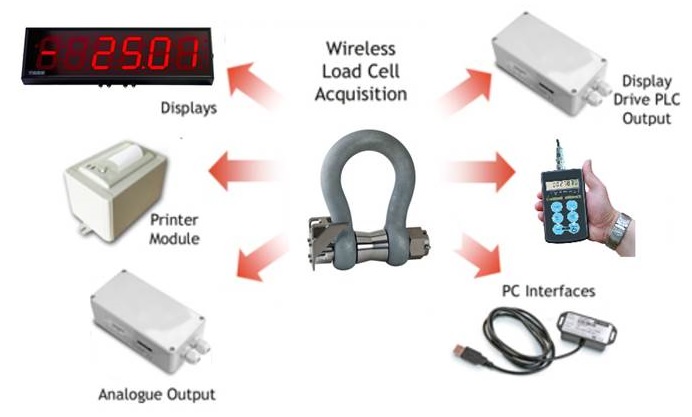 The most important advantages of wireless load shackles are:
Quick and easy to install and uninstall the sensors on-site.
Sensors are plug and play.
Our wireless technology has a high degree of autonomy even at long range.
A more concrete example is our wireless load pin 5000. This load pin can be used with an instrumented shackle, as shown in the pictures below. This instrumented shackle, equipped with wireless sensors, can be used as a load indicator in various industrial sectors and environments (gas, oil, offshore and heavy industry).
Characteristics of the force sensor illustrated below are:
Load pin + wireless
Capacity: from 1 to 400 t
Breaking load: 200...500%
Accuracy class: 1%
Certification: IP 67 M
Wireless range: > 100 m
Battery life: 1 month to 5 years (depending on use)