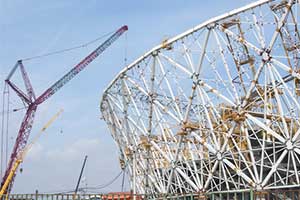 These types of crane must have a load limitation system. This means that, in addition to the raised load, it is also necessary to measure the angle and the length of the boom.
Thus, this handling equipment must be equipped with:
A load cell measuring the hoisted mass
An angular sensor
A distance sensor
A load-moment controller integrating the signals of the three sensors and prohibiting any lifting to avoid leaving the safety zone.
SENSY offers a complete selection of force sensors, load cells and load management electronics for this type of application.
Load cells often used for this type of application