Inaugurated in 2002, the Strépy-Thieu (Belgium) boat lift enables canal boats of 1,350 tonnes or barges of 2,000 tonnes with a pusher to climb a vertical drop of 73.15 metres. To achieve this, it is equipped with two tanks measuring 112 m long and 12 m wide. It replaces two locks and four lifts and drastically shortens the duration of transport on this section of river.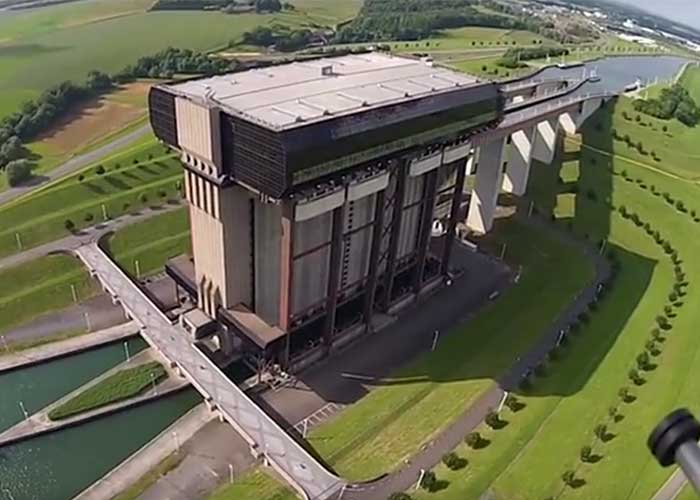 Each tank has a total mass of between 7,500 and 8,700 t depending on the draught and is suspended by 144 hoisting ropes. 112 of these cables (called suspension cables) are connected to counterweights via idler pulleys. The other 32 (so-called control cables) are powered by winches. In order to drastically limit the forces to be generated and thus the sizing of these winches, other counterweights actuated by the same winches balance the control forces.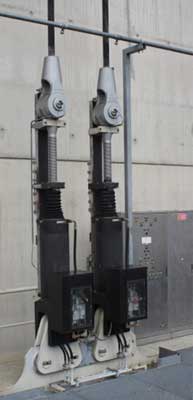 All the cables are connected to the tank via interconnected hydraulic cylinders which ensure the correct balancing of forces between them.
As it is essential to continuously monitor the force exerted by each of the 32 control cables on the tanks, it was decided to mount load pins at the interface of the cable lugs and the balancing jacks.
The measuring range of these load pins ranges from 10 to 90 t. However, in order to be able to measure possible overloads, the measurement range has been increased to 140 t.
The output signal is 4…20 mA. This has been doubled at each load pin to provide redundancy to connect to the second channel if there is a problem with the first; in this way it avoids costly disassembly.
The load pins have the following characteristics:
Measuring range: 140 t
Permissible load:> 280 t
Breaking load:> 500 t
Accuracy: ± 1% in the range from 10 to 90 t
Diameter: 150 mm (profiled to improve accuracy)
Effective length: 324 mm
Total length: 356 mm
Output signal: 2 x 4 ... 20mA (redundancy)
Protection: IP66
Material: Stainless steel
Load cells often used for this type of application
Electronics often used for this type of application