Like any other hoisting system, STS cranes for loading/offloading containers require a load limitation system. This system is meant to prevent an overloaded container from being lifted, as well as a container that may still be rigged on a ship.
Hoisting cinematics are a bit more complex than for an EOT crane, although they are fairly similar in terms of the long travel of the crane and the short travel of the trolley. The width of the spreader used to seize the containers implies that both sides of the cinematics must be equipped with force sensors to ensure any unbalanced loading, overload and slack rope are detected.
The most popular solution is based on load pins installed on the sheaves at the tip of the boom. Their position makes them directly exposed to specific weather conditions in the coastal environment. Therefore, the load pins are protected according to IP67 specific to marine conditions; cable entry is usually achieved with a stainless steel connector, unless the customer requires a cable gland. If the distance between the clevis pins and the control room is more than a few dozen metres, the sensors are equipped with embedded 4-20mA amplifiers. The load pins can also be equipped with lubrication channels, with a wide choice of threads for nipple mounting in order to grease the bearings.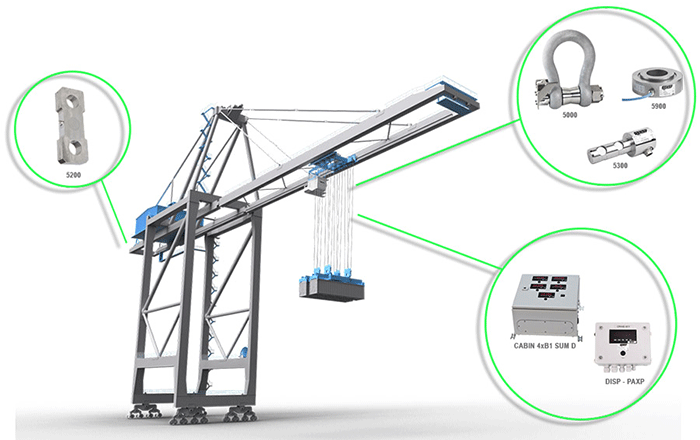 Load cells often used for this type of application
Electronic often used for this type of application