SENSY offers a full range of load limitation systems for EOT cranes. Depending on the type of load cell (wire rope load cell, load pin) and considering the friction in the pulleys, the wire rope weight, and the dynamic effects, the accuracy cannot be better than 1% of the crane's nominal capacity.
For better accuracy (± 0.1%), SENSY offers the 5950 model, four of which will be mounted between two frames to weigh the entire winch and the lifted load.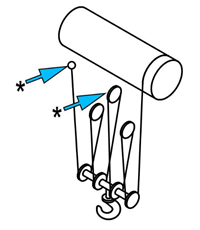 This will eliminate errors caused by variations in the cable weight and friction in the pulleys.
These load cells will be connected to an indicator that can transmit the measurement either to a giant display, or a PLC or to other management electronics.
By means of a complementary device permanently monitoring the correct functioning of each sensor and having programmable relays, this weighing system can also be used for load limitation.
Load cell often used for this type of application
Electronics often used for this type of application